Have you ever wondered what happens to us when we cross that thin line between life and death? What do we feel in body and spirit and what remains in our minds and in our hearts from such an experience?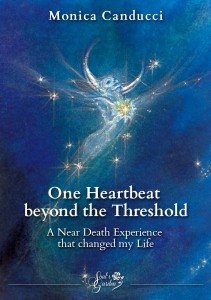 Monica Canducci tells us about it in her latest book "One Heartbeat beyond the Threshold". The author tells of some facts happened to her during her life, facts that led her to a near death experience. Moreover, she tells how it is important not to lose themselves and their own essence.
A touching and personal story, through which the author tells us how she has recovered after the bad experiences that led her nearly to death. And after this, Monica decided to start a project dedicated to the rehabilitation and recovery for people with neurological disabilities due to acquired nervous system injuries.
She describes this project in her second book recently published, "Move-in Mind ™: the power of mental imagery in nervous system rewiring", in which Monica tells with delicacy and simplicity of the first case she has followed.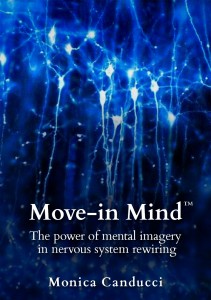 How our mind, thoughts, mental images and language can influence our body, through the connections of our nervous system? How can we "sculpt" our brain, in order to recover any acquired damage?
This is what Monica wonders about, by telling the story of case of Claudio, her patient who has been suffering of quadriplegia since a car accident. With Claudio, however, she has achieved extraordinary results, up to retrieve some of his lost motor functions.
Two deep and interesting books, easily understandable by all those who have not great knowledge in this. Both works are published as eBooks in English and can be downloaded for free from the author's website. Monica's aim is just to share her experiences to support and encourage anyone in need.
My advice? Do not miss these two little treasures and share them! 🙂
For more information about Monica and her projects, visit her personal site (where you'll find  "One Heartbeat beyond the Threshold") and the site of the Move-in Mind ™ Project (where you'll find "Move-in Mind ™: the power of mental imagery in nervous system rewiring").