After the eBook, here comes the paper version of "Fionnualla"! Compared to the electronic version, the editing for this volume took up more time than expected, the layout first of all, the press was even longer… 🙂 However, I am pleased to tell you that we finally saw the results of our efforts!
The page layout was edited by Fabio Cento and me, alternating at the computer not to lose too many dioptres. We wanted to add some innovations to the classic layout; you'll jugde if we did right or not.
The cover takes up the previous graphics and gives more freedom to the forest behind the protagonist and adds some Messengers.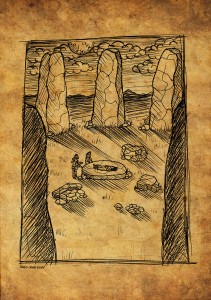 To be honest, this involved only Fabio, he is the graphic designer! 🙂
The illustrations of the eBook (three to be exact) have been enriched by two more, for a total of five ink drawings, whose purpose is to accompany the story as the engravings of a journal. You will find them in the prologue and in the chapters 4, 7, 8 and 9. I've always loved this style of illustrations in black and white with clean and marked lines; I hope you'll like them too! And do not forget to have a look on the official map of Mœrn Lan 🙂.
If you are interested in one paper copy of "Fionnualla", you can easily find it on Amazon and IBS.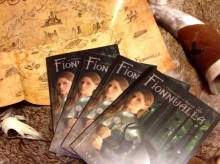 Second solution, easier and more immediate, is contacting me through the form, so as to receive the book signed directly to your home with a little free gadget of the book 🙂.
Viljial Chnaal – May the path be in your favour!